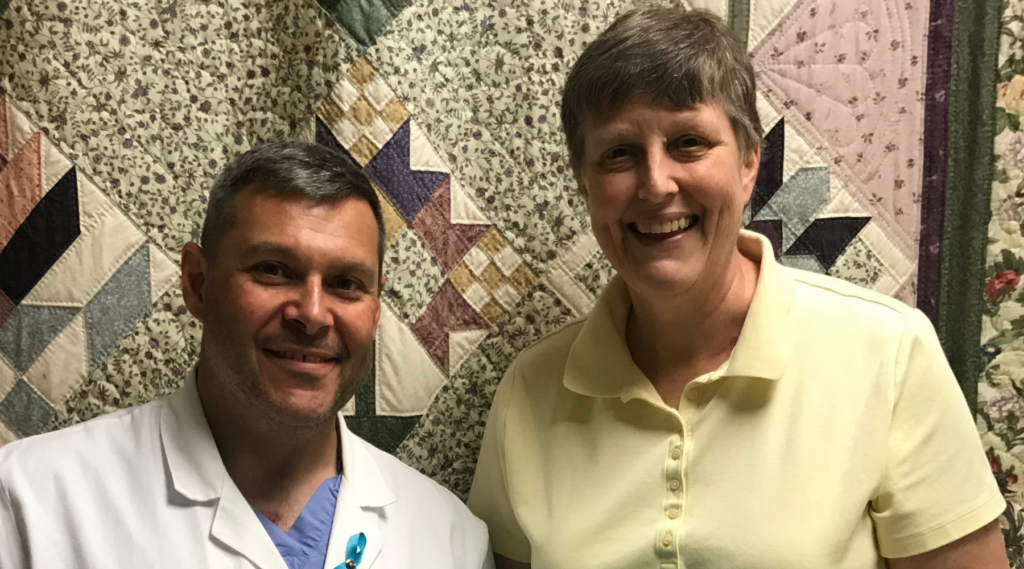 I am someone who has experienced both remission and recurrence of ovarian cancer.
After I was first diagnosed, I had both ovaries removed and went through a regimen of chemotherapy. The results were good—my cancer went into remission. But then, during a routine checkup, I found out that several of my lymph nodes were enlarged. My cancer had come back.
You can imagine how upset I was at hearing this. But after my consultation with Dr. DeSimone, I was comforted knowing I was in the best of hands—because UK Markey refuses to accept defeat.
Since 2013 I've been treated with several different chemo drugs. Recently Dr. DeSimone suggested genomic sequencing of my cancer for one of the most promising new strategies in cancer treatment—targeted therapy. As a result of the genetic analysis, I'm now on an oral medication, which means I no longer have to go to UK Markey for treatment, only regular monitoring.
Although there is one more reason I go to UK Markey—for their free Jin Shin Jyutsu sessions! These classes are an amazing therapeutic way to complement my treatment by balancing my body's energy to facilitate healing and restore a more harmonious state of being.
I'm extremely grateful to the doctors and nurses at UK Markey. I feel the entire staff is on my team. Above all I appreciate how supportive everyone is, and how they refuse to give up hope.
Dr. DeSimone has a wonderful attitude—with just the right combination of optimism and realism. He doesn't want to give me false hope, but, even more important, he will never let me give up hope.
Believe me, everyone at UK Markey is resolved that we patients have the very best chance possible to beat cancer.
And I'm grateful for the generous supporters of this special hospital. Without them, I don't know how we could keep on fighting.
Sincerely,
Sue
UK Markey Grateful Patient