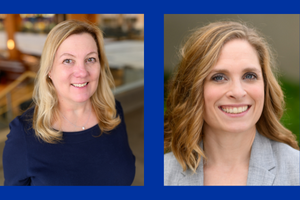 On Monday, May 9th, the University of Kentucky Markey Cancer Foundation's Markey Women Strong program awarded its annual Distinguished Researcher Grants to UK Markey Cancer Center researchers Dr. Krystle Kuhs and Dr. Jill Kolesar. This marks the 6th consecutive year of funding awarded to Markey Cancer Center female-led cancer research teams, totaling $600,000.
The researchers, as chosen by the Markey Cancer Foundation's Markey Women Strong members, are each awarded with a $50,000 grant to fund their proposed cancer research. Krystle Kuhs', PhD, MPH, project is titled "The VOYAGER Study: HPV16 E6 AntibOdy Detection as an EarlY Marker of OrophArynGeal CancER". The objective of this study is to better understand HPV16 E6 antibodies as a possible risk marker for HPV-driven oropharyngeal cancer development among men from the general population. These efforts could help generate screening methods for early detection of this HPV-driven cancer. This work is particularly impactful given that Kentucky has the highest rate of HPV-driven oropharyngeal cancer in the country.
"I am incredibly honored and humbled to be chosen for this award. Kentucky has one of the highest rates of throat cancer in the country – this award will help us develop better ways to detect throat cancer earlier", says Dr. Krystle Kuhs.
Jill Kolesar's, PharmD, MS, project is titled "Development of Novel Treatments for Ovarian Cancer". Unfortunately, most women's ovarian cancer becomes resistant to treatments and they die of their disease. Dr. Kolesar and her lab are working towards reducing deaths due to ovarian cancer by improving treatment options for initial, maintenance and recurrence by using a series of drugs they have developed to target the mitochondria, the powerhouse of the cell.
States Dr. Jill Kolesar, "This award enables us to move our very promising new anti-cancer medications one step closer to clinical trials in women with ovarian cancer. With the help of Markey Women Strong we are working to end deaths due to this disease."
Started in the summer of 2016, Markey Women Strong is comprised of philanthropic women and men who aim to make a meaningful difference in cancer research by funding female researchers focused on advancing the fight against cancer at the University of Kentucky.
The Markey Women Strong program is one of the most hands-on opportunities donors have to support the Markey Cancer Foundation, thus making Markey the place where Kentucky comes to beat cancer. Each member of Markey Women Strong contributes an annual donation of $1,000. Together, the members of Markey Women Strong read grant applications, hear from the researchers, and then vote to decide which UK Markey Cancer Center grant applicants receive the research support.