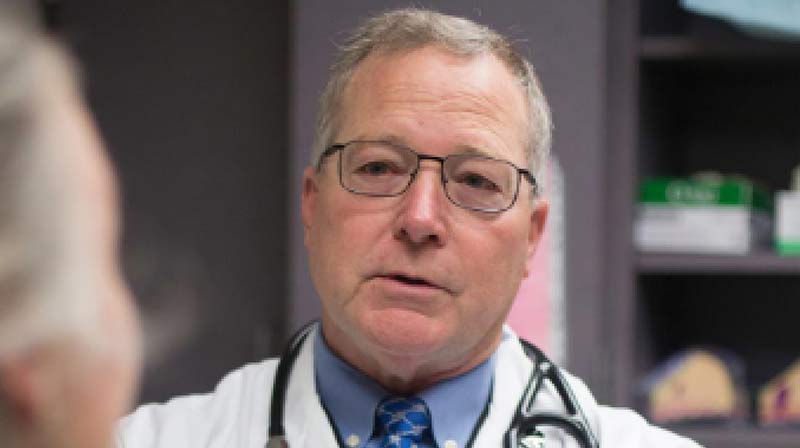 I'm a cancer surgeon at UK Markey. And not even that prepared me for my own personal cancer diagnosis.
The last thing on my mind while serving as an Army Reserve Surgeon in Afghanistan was cancer. But I noticed something was off when I lost a significant amount of weight and started experiencing unexplained pain. Then, on Christmas Eve, I felt it—a lump in my liver. I'd taken care of enough patients to know what was going on.
I flew from Kuwait to Fort Benning, Georgia for an ultrasound, which showed I had masses all over my liver. When I realized I was suffering from late stage cancer, my first thought was, "How do I get back to Markey Cancer Center as quickly as possible?"
I was immediately started on a regimen of Gleevec, a targeted therapy that exclusively attacks a protein complex only cancer cells have. During the first month, my pain lessened considerably, and when we conducted a scan of my liver it showed the treatment was working. After six months, my tumors were still shrinking, and eventually they disappeared. There has been no sign of cancer since.
My cancer probably would have killed me if it hadn't been for folks from our community who generously support UK Markey and allowed my extraordinary colleagues to provide top-notch care.
I'll never know how close I came. But I know one thing for sure: My life-altering experience as a cancer patient has dramatically influenced my work as a doctor.
Before this, the process of medical examinations and treatments was something that I had only witnessed in my patients as their surgeon, and not something I had experienced first-hand. Now I have a much deeper and more personal understanding of the potential challenges and distress that patients face.
I firmly believe this has helped me to become a better doctor and I've made a personal commitment to making sure there are fewer patients who have to go through this trial.
I'm grateful for the compassion of UK Markey friends who support lifesaving work. They help our team of doctors and nurses respond to patients with medical expertise, experience, wisdom and leading-edge, compassionate care.
Very sincerely,

Dr. Timothy Mullett
Thoracic Surgeon, UK Markey Cancer Center