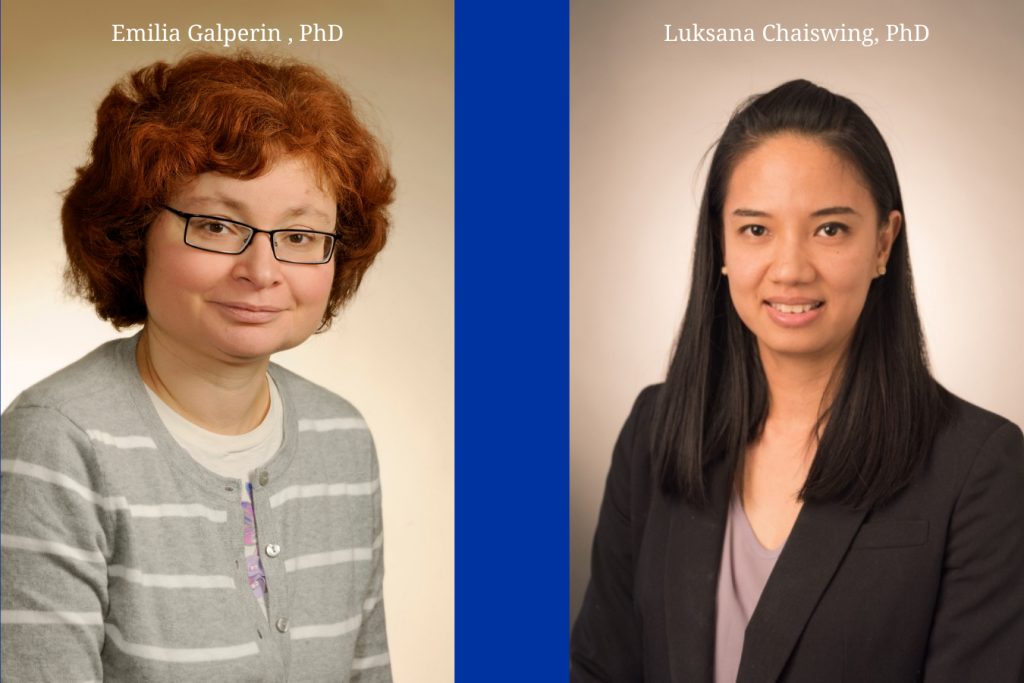 On May 18, The University of Kentucky Markey Cancer Foundation's Markey Women Strong program awarded its annual Distinguished Researcher Grants to UK Markey Cancer Center researchers Dr. Emilia Galperin and Dr. Luksana Chaiswing.  This marks the 5th consecutive year and a total of $500,000 that has been awarded to Markey Cancer Center female-led cancer research teams.
The researchers, as chosen by the Markey Cancer Foundation's Markey Women Strong members, are each awarded with a $50,000 grant to fund their proposed cancer research. Dr. Emilia Galperin is using a multidisciplinary approach to understand cell to cell communication in cancers that are resistant to certain treatments, and Dr. Luksana Chaiswing's work focuses on the reasons why some cancer patients become resistant to the very treatments they take for their illness, by studying mainly prostate cancer and brain cancer. By solving this puzzle, she and her team hope to improve the treatments most people receive as well as the quality of life of the ever-expanding number of cancer survivors.
Says Dr. Mark Evers, Director of the Markey Cancer Center, "I am so appreciative of the Markey Cancer Foundation for their support of our outstanding Markey women investigators. Over the last 5 years, the Markey Women Strong program has provided a half million dollars to support innovative research which has led to new discoveries and, in many instances, additional funding."
Started in the summer of 2016, Markey Women Strong is comprised of philanthropic women and men who aim to make a meaningful difference in cancer research by funding female researchers focused on advancing the fight against cancer at the University of Kentucky.
The Markey Women Strong program is one of the most hands-on opportunities donors have to support the Markey Cancer Foundation, thus making Markey the place where Kentucky comes to beat cancer. Each member of Markey Women Strong contributes an annual donation of $1,000. Together, the members of Markey Women Strong read grant applications, hear from the researchers, and then vote to decide which UK Markey Cancer Center grant applicants receive the research support.
"It is incredibly gratifying to hear that others find our research important and worthy of pursuit. This award is also a testament to the talented and dedicated women in my lab," says Dr. Emilia Galperin.